Stepping out of my comfort zone.
This week I went to a whole new level in self care and wanted to share some mindset breakthroughs I had as think they will help you too.
I did something I have never done before and boy it felt good.
Not sure why it has taken me as long to do this as now I feel I have been missing out for so long.
I have stayed in nice hotels with my family in the past. I have gone away on my own for business events too, but until this week I have never taken myself away to a nice hotel on my own for no reason apart from self care.
I booked into the gorgeous Spa hotel and indulged myself. I didn't booked a standard room but a luxury one. I ate in the restaurant alone sipping a cocktail and ordered a delicious steak.
Honestly I had the best time people watching, journaling and just connecting with myself and of course great chats with "The Upstairs".
Here is what I realised
I have totally uplevelled my self care. I recalled a recent conversation with a friend who said they would not go to a nice hotel and spend money on just themselves unless they were going with a partner. That indicated a belief they have which is very limiting, is they are not important enough to do that. I know this, because I used to have it too!
Due to clearing that limiting belief myself recently which led to me manifesting my 6 bedroom house by the sea and now staying in this luxury hotel. As I sat there watching everyone else in the restaurant wondering how many of them felt important enough to experience this with themselves or would they only be there because they where with a friend or partner?
We all have limiting beliefs that hold us back having what we want in life. Our job is to keep doing the inner work on them to shift them and clear them, so we can manifest what we want. With manifesting you have to feel it first for it too manifest, you have to embody the emotions of what you want before it can come to you.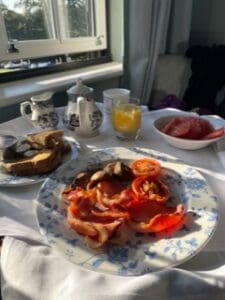 Having my breakfast delivered to my room, looking at the lifestyle I have created and how far I have come from living on benefits and being totally broke I felt a huge sense of gratitude and said to "The Universe" more please!
I had so many revelations in my time away, of desires I didn't even know I had, now I am home and ready to manifest them. Rest assured going away on my own is going to be a regular part of my self care. There was even picture of feathers aka Angel signs all down the corridors, it was just meant to be.
Are you important enough?
My question to you is what can you do today to show yourself you are important enough? It might be setting some boundaries or doing something you have always wanted to do. My advice is don't wait do it now, as all we have is now. I would love to know what you are going to do over in my free community group.