Yesterday I talked about being brave, knowing there was no rescue coming and how it was up to me!
Talking from my bed for this one – my son has friends round so I'm checking in from my 'zen den'.  My bedroom is always high energy.
Yesterday I touched on my illness and today I'm talking more about this and how pants it was.  I don't talk about this very often as Law Of Attraction (LOA) is a massive part of my life, I don't want to attract more illness!
What this time in my life taught me is that asthma is always about grief and loss – I recommend Louise Hay's book 'You Can Heal Your Life' – the book tells you how unhealed emotional things, if not healed, can manifest in your body.  I honestly believe this.  Especially with long-term conditions.
I got over my serious attack.  It was still tricky for years and I used to say to people "Oh it hospitalises me a couple of times a year".  Once I stopped saying this, it stopped happening.
I talk more about this and other health challenges that I've overcome using LOA in today's 10 year anniversary Live.
Tuesday 10th December 2019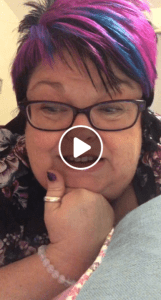 _
Come and join my Private Manifesting Club – Abundance Club (it's where I share my manifesting secrets).
Not ready for the club yet?  Grab one of my free resources to help you on your journey.