My Heels Cracked.  What Would Louise Hay Have To Say About That?
My Heels Cracked.  What Would Louise Hay Have To Say About That?
Sadly, we have had the recent passing of the amazing Louise Hay. She was the founder of Hay House and her work transformed many lives.
I have always referenced her work and used her book in many a session with clients. I love what she taught. Our bodies are highly tuned barometers for what is going on emotionally. If you are anything like me you will be rushing about with life and not always recognizing things, we miss so much.
Louise taught that all psychical issues relate to an emotional issue that has not been dealt with. Let's face it, we all push things to the back of our head and think we are just moving on, but are we really?
This Had Never Happened Before
Just before my recent holiday, my heels went so dry, lines appeared and I thought they might crack. This had never happened before. I could have slapped on the cream or booked a pedicure. However, instead, I tuned in to what the issue was.
I have got good at working it all out now and soon realized it was about fear of stepping forward. That I was not moving in the direction I was supposed to.
I knew as soon as I got that message it was about my business and how I want to help more business people.
I have been talking about it for long enough but not really done anything about it. I love people who are as driven as me. People who have a big message to share and want an easy way to get it out into the world, whilst giving them and their families an incredible lifestyle too.
Perfect Timing
My holiday was perfect timing, (of course, like I would even have doubted that). I spent my time with my friend doing lots of reflecting, processing, journaling, meditating and got a real plan together.
The thing was as soon as I did that my heels cleared up all on their own. No extra treatment was required.
I am not surprised about this, it has happened with lots of conditions over the years.
So next time you have something causing pain or irritation tune in and see what the message is, as you are being guided all the time.
If you want my help you can book an appointment.  Or you can help yourself to one of my freebies.

Also, have you taken advantage of my current offer? I am giving away FREE copies of my Abundance Blocks Workbook where I share a simple two-step process you can do to clear your blocks, fears and limiting beliefs. This offer ends soon so download your copy TODAY!
Download my FREE Cheat Sheet and begin changing your money story today in 10 easy steps!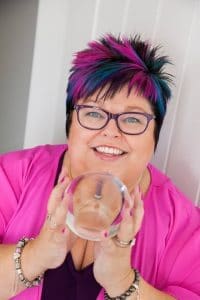 Amanda Tooke, also known as The Angel Mystic is a Spiritual Life Coach to the stars and people with big dreams.  Amanda is also a Reiki Master, a published author and has featured on television, radio and in various publications. Amanda is the creator of The MAP – Manifesting Abundance Process that she teaches in her membership site Abundance Club. Amanda also runs 5 * Angels in Anglesey Exclusive Spiritual Retreats, plus various online programmes and 1:1 work encompassing Angels, Spiritual Development and the Law of Attraction. Contact her at info@mystic-moon.co.uk or visit her website https://www.theangelmystic.co.uk/. 
Liked this post? Read another related post...
A really good solid manifesting and spiritual development practise is important.  So I'd like you to work out where you are at right now. In this week's Confessions Of A Psychic, I will walk you through a process to discover where you are at so you can ensure you are...
What do you do when life throws up obstacles?  Life is currently throwing me plenty of unexpected curveballs.  I talk a lot about how great it is to manifest and about my life with the Angels when things are going swimmingly.  So  I feel it's equally important for me...