There is More To Life Than What We Can See
My More to Life Programme (previously know as Spiritual Development Meditation Programme) will help you understand there is more to life than what we can see. It is a complete programme to help you spiritually develop with eight short meditations suitable for all abilities and busy lives, that will take you through everything you need to fully connect with what I call 'The Upstairs'.
'The Upstairs', is your support system – the Angels, Guides and Spirit people who are all waiting to help us. We can all connect with them and they are waiting to assist us. Life feels supported and easier when we do.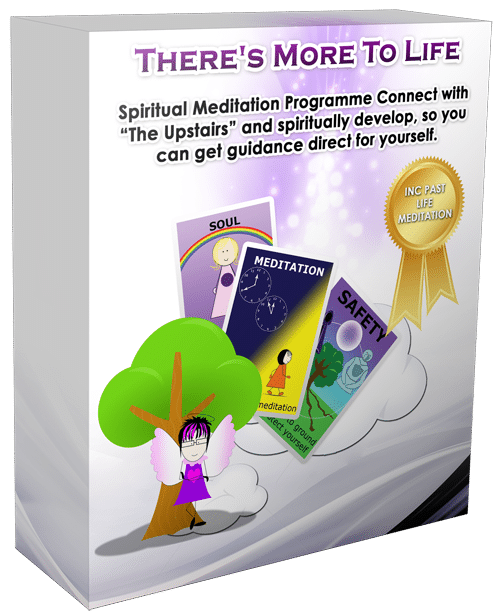 Feeling disconnected from your Angels and Guides can make you feel very lost.  You might be searching for something but you don't even know what that is.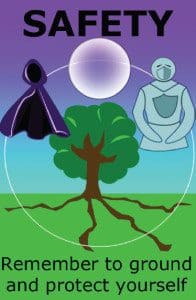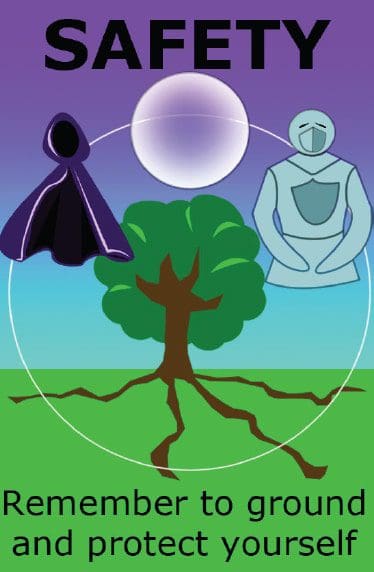 You might know you have some ability but unsure how to develop it?  Or, you might get signs or messages but how do you know when it is you making it up or a message for real?
It is simple to connect
This programme will help you understand your own energy first, then move you through all the stages so you can fully connect with your Angels and Spirit Guides.
It will build your trust in your own abilities and connections. So you can eliminate self-doubt.
Fully connect with "The Upstairs"
This programme will start you with the absolute basics of grounding and protection. This is something you should do before each meditation. In fact, even if you don't meditate, you will feel the benefits of this just within life, it will help you be more aware of your energy and how it is affected.
More to Life Will Fast Track Your Development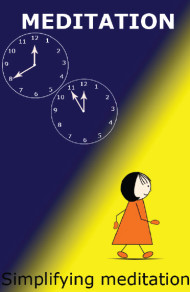 The programme then moves you through all 8 meditations:
You don't have to do this alone
BONUS: You get one free month Abundance Club membership
I understand opening up may feel a bit daunting so this programme comes with one free month of Abundance Club membership.
Abundance Club is my private manifesting club where you have access to more of my manifesting secrets. You can ask questions, share your abundance windfalls and get support. It is so beneficial mixing with like-minded people.
You can meet others that are doing my programmes, get support from them and me as I am regularly in the private Facebook group answering your questions.
Please note: Your subscription to Abundance Club means you become an exclusive member of my club, where lots of people hang out with me and learn how to manifest with their Angel's help. If you don't completely love it you can cancel Abundance Club at any moment, just email hello@mystic-moon.co.uk. Otherwise you can stay in the Club for as long as you want, as your Club membership will continue automatically after your free month has ended, at $28/month until you cancel.
This programme is all based on the same meditations I do daily to connect in. I want you to be able to have the same connection I do and meditation will always be the key.
I would recommend you do start with the Higher Self mediation and repeat it for 7 days before moving on to the Guardian Angel, which should then be repeated for 7 days before continuing on throughout the programme in the order above. It is likely you will experience difference things even doing the same meditations.
By doing it this way you will be strengthening your connections, getting to understand the way you communicate and work best with your own 'Upstairs'.
You can buy now by clicking the button below:
$117 (approx £93)
The very first time I listened to the meditation I got to meet my Guardian Angel. The feeling is indescribable and I hope everyone else gets to experience it too. The meditation is straight to the point and most definitely works. Thank you so much for sharing this x.
They are all short meditations since we all have busy lives. Each is no longer than 15 minutes, but it will be the most beneficial 15 minutes of each day.
I have always wanted to develop, but didn't know how. This was so easy, I have met my Angel and my Guides and now connect with them daily. Thank you for making it simple.
More To Life Programme comes with: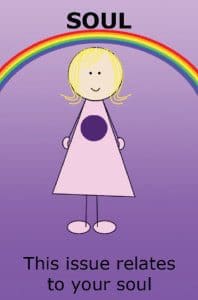 8 meditations all downloadable on MP3 with information sheets about each one.
These meditations will really fast track your development, not to mention heal lots of issues too.
There will be no music just my voice leading and guiding you into your development.
It even has meditation to help you discover your own past lives.  This you can do time and time again to give you a greater understanding of this life.
One lady who had always had a fear of water in this life found in one of her past lives she had been drowned.  After doing this meditation and healing with the Bonus Mediation included she was able to go on to have swimming lessons.
You can buy now by clicking the button below:
 $117 (approx £93)
Know if the messages are from your Angels, Guides or even your Ego!
By following this programme you can learn where you have been going wrong in connecting.  Build up your abilities to feel confident to start working further with Spirit.  Feel connected daily with the guidance system we all have.
Know when it is your Angels or your Guided or even your ego!  So you can have effective and beneficial meditations.
Spiritual Development is easy, grounded and fun
My programme offers you the right support so it makes spiritual development is fun.  It is easy to understand and grounded, like all my work. I believe life can be complicated enough, so this development has to be easy.
BONUS
To make sure you really understand your own energy first I include a bonus of my Basic's and Rainbow Healing MP3.