Work Your Manifesting Muscle
Work Your Manifesting Muscle
I have been doing some expansion exercises recently within Abundance Club. Simple mindset games to stretch my manifesting muscle. We all need to do these to grow into the next level of manifesting as there is always something new you want to manifest when you have done one thing.
Trust me manifesting becomes somewhat addictive. It is not always big things, but I really love the challenge of bringing in things that seem impossible.
I play with the Universe on a day to day basis to see what it can turn up for me. So recently my practice has been about how I work with celebs and mix in those circles.
I had the hugest smile on my face last week when in the space of one week 4 opportunities arose, it is no surprise they all happened after I had been focusing and working my manifesting muscle in the direction of celebs and sharing my message.
1. The first was my blog was featured on Jacqueline Gold's WOW site. I won her WOW award last year and now my blog is featured on her site. She is an incredibly inspirational lady who I am proud to be nominated by.  You can read her blog here: My WOW Blog
2. I then went to a Mind Body Spirit event as my guides said I should go. I was sat in a sound bath enjoying a meditation and I could see a beautiful set of eyes (in my mind's eye). At first, I thought they were my guides but then I realised I didn't recognise them. They were a ladies and had a curvy female shape to them, but what struck me is how bright they shone. I came out of the meditation and as we were all leaving the room I saw the same set of eyes coming in. When I looked it was a glamorous lady coming in with her family. I wasn't sure what to do, but seeing those eyes stopped me in my tracks and I sat down for a moment to see if more guidance was to come through. I could hear people talking to her and calling her Leanne. I felt guided to go over to her and offer her my book and cards. I always keep a copy on me and leave them in random places for people to find.
I asked her would she like my cards and book about Angels. She said "yes please" and went on to say she already had Angel cards but loved the simplicity of mine, as we chatted briefly.
She then asked me would I like a photo, so I said yes but did start to think it was an odd thing to ask. Her daughter took the photo and we said goodbye.
I knew it was all meant to be and I had followed by guidance, however, I was struck by the beautiful light that surrounded mostly her and extended around her family (not to mention her dishy husband). It wasn't until I returned home and Googled who they were, did I realise it was Leanne Brown, one of The Real Housewives of Cheshire, and her famous footballer husband Wes Brown.
I rarely watch TV, never read newspapers and certainly had no idea who they were, but it made me smile, as it was part of my intentions when I was playing with the Universe, that this had all come about.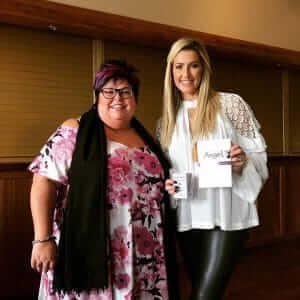 3. Out of the blue, I got a call from BBC Radio Leicester asking me to appear on Jonathan Lampon's afternoon show to talk about Angels. He had interviewed Gloria Hunniford and she had spoken about her Angel experience and they wanted to know more. You can take a listen on this link: Angels On The Radio 
4. The fourth thing was an interview I did for a podcast with Jackie Frith where I shared my story of how I got into Angels and the spiritual world. You can have a listen on this link: Jackie Frith Podcast Interview
It never ceases to amaze me how incredible the Universe is. How easy things can turn up when we just set intentions, follow our guidance and allow the magic to happen.
You have these connections too.  Download my Free Manifesting With Your Guardian Angel meditation and start your connections today.
The doors to Abundance Club are now closed.  Join the waitlist and be the first to be notified when they re-open again in 2018.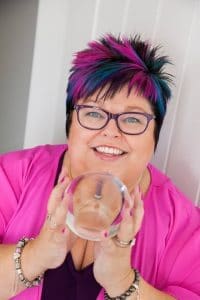 Amanda Tooke, also known as "The Angel Mystic" is a Spiritual Teacher to people with big dreams.  Amanda is also a Reiki Master, a published author and has featured on television, radio and columnist for Fate & Fortune Magazine. Amanda is the creator of The MAP – Manifesting Abundance Process that she teaches in her membership site Abundance Club. Amanda also runs 5 * Angels in Anglesey Exclusive Spiritual Retreats, plus various online programmes and 1:1 work encompassing Angels, Spiritual Development and the Law of Attraction and the energy of Passion!
Contact her at info@mystic-moon.co.uk or visit her website where you will find lots of free resources  https://www.theangelmystic.co.uk/.
Liked this post? Read another related post...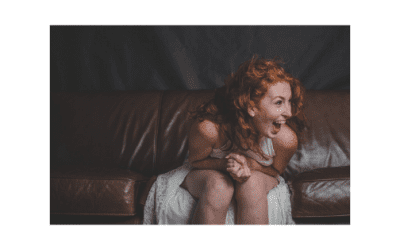 Lots of women are blocked from receiving what they want to manifest due to not being able to receive.  Even things as simple as a compliment, can't just be received without justifying "What, this old dress?". Women are so often used to giving to everyone else. Their...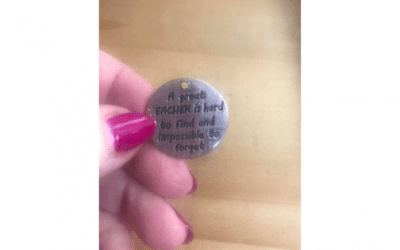 What does that even mean? Flow. For me it is everything. It means I am fully supported, guided and taken care of. It means everything is unfolding as it should.  It feels like my Angel is one step ahead of me clearing the way and everything works out just as I want it...