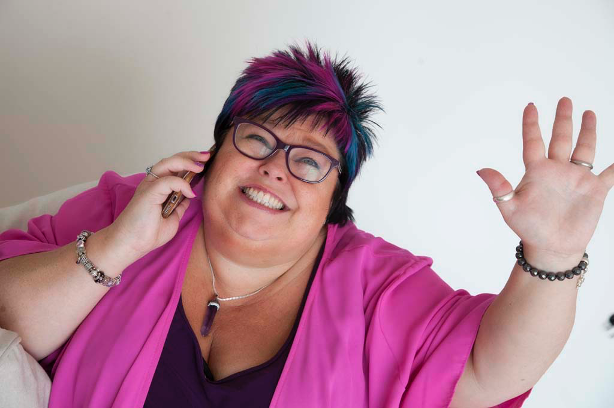 First, let me tell you how this has come about.  My most recent Abundance Club Mastermind has come to an end after 6 months and it has been the most incredible experience.
Everyone loved it as you will see from all the comments below and they didn't want it to end, so asked for more.
I was just percolating with the idea and one of my 1:1 who was doing amazing with manifesting business success was telling me about how well she was doing. I asked her how she made her decision on something.
She said "I just think What Would Amanda Do, then I do that."
That was it!  What Would Amanda Do was birthed in that very moment.
So here is your invite to join us over the next 5 months and lets navigate through the rest of this 2020 crazy year and take your power back so you can manifest what you want.
Here is how it is going to work:
As many of you will know I am always on the self-development journey trying out new things, the like long learner that is me!  For you that means when I discover something new I share it with my Mastermind clients that I am working at a deeper level.
I have been running group masterminds for 5 years each one is different, but this one will be based on Abundance Club Mastermind but with new aspects that I am discovering now.
For example I have started channelling a new entity called "Jomoja's House", it is a collective energy and bringing guidance from them over the last 6 months has really helped me and those working closer with me.
I will be sharing more energy exercises that I personally do.  These will really help your manifesting, clearing blocks and connection to your team.
I have to say I am quite excited about inviting you in to my life and working with you on this level for 5 months.
I will be sharing things I have never shared before so you can take your development and connection to the next level too.
In fact this is all about having more access to me and having my support.  So if you have always thought I want to speak to Amanda and ask her advice, this is for you.
Not only in our weekly sessions will we be connecting but also in the Facebook Group too.
Insights in to how Angels and Law of Attraction impact on my own personal life and my family.  How we personally all use them every day and the results we get.
It is about having more access to me and my support.  Working closely with me and getting insider info on what I really do to manifest.  This means you will be able to take what I do and work it into your practice at a deeper level than just The MAP.
It's like "virtual coffee dates" and "hang outs" informal but highly productive. Plus, HOT SEATS.  So each session you will be in for chance to get on the hot seat and we all input and support you with what is coming up for you.
Whilst this is going to be a lot of fun, it will also be much deeper work than you have ever done before.
It is about working on you and your energy.  It is about unearthing what is blocking and holding you back.
Maybe you have been putting into practice all I teach in The MAP and now are ready for more.  You are tired of being held back and need help moving through the blocks with health, wealth, career, love or anything else you want to manifest.
It is going to be particularly relevant for those called to step up spiritually in all that is happening in this world and do what they have come here to do.
In the Mastermind we get to hang out for a whole 5 Months.  Each month we will have:
A weekly Zoom Session (with replay) covering new content that we don't cover in Abundance Club to expand yourself and spiritual development. We will do virtual cuppas, dates, hang outs & hot seats, plus live meditations. Guaranteed, lots of fun support and golden opportunities, so you can really get What Would Amanda Do!
Plus, Facebook Group for support in-between for the whole 5 months.

Each live session comes with a replay.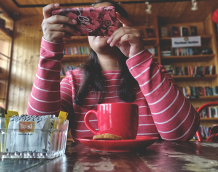 What is a Mastermind?
I will be leading this amazing group which will provide you with an incubator to up level in whatever area you want. The collective energy of a mastermind group like this is always a catalyst for your transformation. This is an awesome group all wanting the best for each and every one. All spurring each other on, sharing, supporting and building the magic together. 
Nothing beats getting support on this journey of conscious manifesting, being in a community of people who get it and more importantly get you! 
Feeling understood and working together as I share how to get to the root cause of what has been holding you back.  I have personally never felt as free and unlimited in what I can manifest; I am going to teach you how to do this too.
What I love about Masterminds is we really get to connect in our live Zoom sessions, I can really support you far more than I can in a Facebook live as we get to speak properly.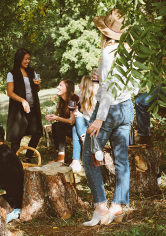 I have sat in a few masterminds and they always up level my life.  I have also ran them for the last few years and it will offer you a place to brainstorm, educate, give you peer accountability and support in a group setting to sharpen your personal and even business skills. 
Remember too you are the average of the 5 people you hang out with.  It is so important to spend time with people going to the next level if that is what you want to do. It will help you achieve success in whatever you want to manifest.
In this Mastermind I am keen to also support your spiritual development so you can feel more supported and understand your guidance more. 
I am keen to get you in control of that EGO and the other aspects of you that will be holding you back.  So you will easily be able to recognise when they raise their ugly head and learn ways to overcome it.
If you want to find more flow, ease and manifest like crazy I am looking forward to supporting you over the next 5 months.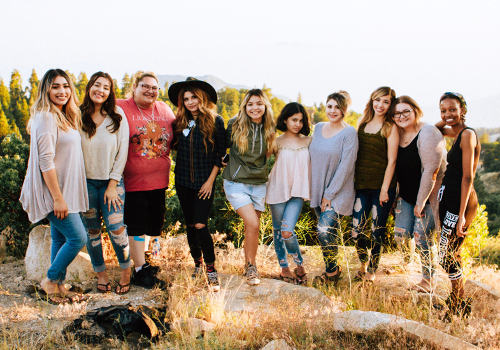 This is definitely for you if you:
Have worked with me before.
Understand the basics of manifesting.
Have manifested with some success but still blocked in some areas.
Want to work in a close group.
Want my personal help at an affordable price.
Want to end 2020 on a high.
Already connect with your Angels but want to understand your guidance more.
Want to manifest more Abundance in all forms.
Are ready to do some serious self-development and healing.
Are ready for the next level.
This is not for you:
If you are new to Angels and Law of Attraction. In which case you will be more suited to Abundance Club as you need the basics under your belt. You can join us later when you have got a grip with the fundamentals.
Here is what some of my recent clients have said about working in a similar 6-month programme: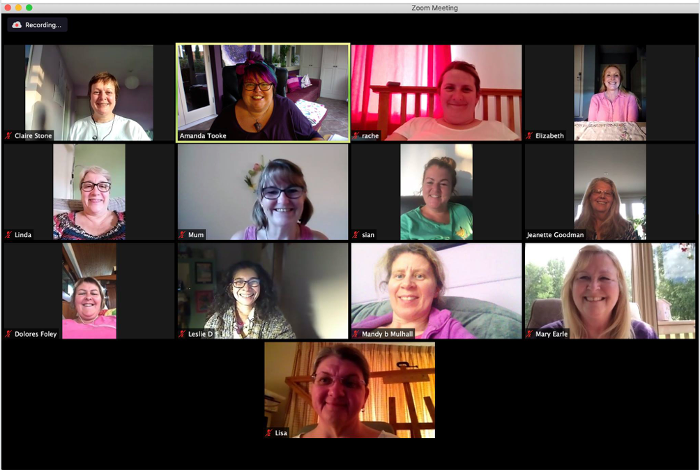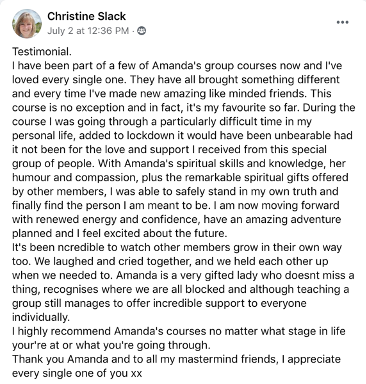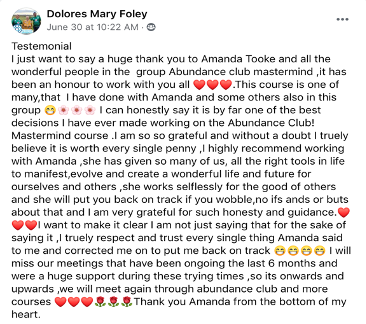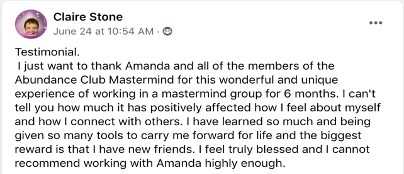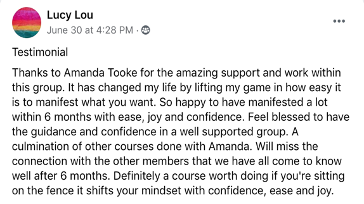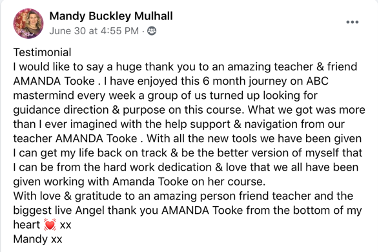 Nitty Gritty – What Would Amanda Do? (WWAD)
We are going to be working closely together for 5 months – August to
December 2020.
Date Starting: Monday 3rd August – 7.30 pm (UK time) then running every week till 21st December. 
Please not there is no live 23 Sept  & 2 Nov as I am running my retreats, but I will deliver some content in the group for you to work on and of course check in on your all like I will do for the rest of the time we are masterminding.
All you need is:
Zoom (free to download)
Facebook Account (free)
Journal & Pen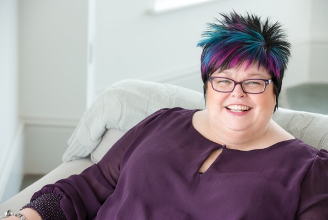 Your investment is
£1399 one off payment
Or a 5 month payment plan of £289 per month making it £1445 in total.
To book your place on WWAD click below:
My Commitment To You 
To host this space of collaborative energy, provide you with an incubator for manifesting transformation in any area of your life that you want.  I am willing to fully support you and let you into my life on a level I have never done before.
I will provide you with tons of resources that when implemented will change your life.
Your commitment… and this is really important, as I am not wanting anything but incredible results for you and if you follow what I teach you will get them. I am 100% in and I need to know everyone that is working with me at this level is too! 
So if this is calling you, you need to be 100% in too!  That means turning up for the live sessions when possible.  If not doing the replay as soon as you can.
Being accountable and active in the Facebook group, sharing your wins, asking for help and supporting each other.
To book your place on WWAD click below: