Ladies The MANifest Love Clinic Group Programme
Is starting soon, book your place now!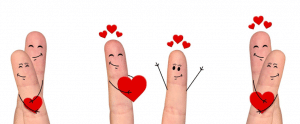 Are you feeling unlucky in love? Wondering if you will ever meet that man of your dreams.
Do you keep manifesting the wrong type? Maybe you have given up and thrown yourself into work.
Or perhaps put all your love and affection on your pet or family, but inside you are yearning for that long term relationship to come along.
Someone to be there for you, to cherish and adore you, to continue your journey through life together. No longer been the third wheel with your friends.
If so I know what that feels like after 18 years of being single and dating less than ideal men where it never worked out, never met my needs and left me feeling more and more lost in the land of love.
I began to think cupid was never going fire his arrow in my direction.
What was wrong with me I could manifest everything else why not love?
I am a nice person, everyone told me that, so how come a couldn't get a man to stick around?
Why did they just cheated on me?
What was I doing wrong?
I punished myself and beat myself up for too long.
Took what I could get in terms of dates only to be disappointed time and time again.
That was until 1st January when I placed a very specific order with the Universe and by the 3rd of January I was dating him and have been ever since.  This man truly adores me.
How can you manifest your man?
It requires doing the inner work, healing past relationship energetically, increasing self worth so you know are worthy of this gorgeous man you are going to manifest.  Plus, get super clear on what he will be like and how he will treat you.
So I am opening up support in the LOVE CLINIC Group Programme, a small group of us can work together for 4 weeks to manifest love.
What is the Love Clinic?
It is Spiritual Coaching focusing on your love life. So we can work together healing your past and clearing all that past energy.  Creating new beliefs and increasing your self-worth. Getting your order place correctly with the Universe so you can be loved up in now time at all.
What do you get:
Everything runs inside a Facebook Group.
Sessions start Thursday 11 am UK time on 17 May,
then 11 am on 24th, 31st & 2 pm on 7th June.
Pre Start Questionnaire to look at your past relationships.
4 x 60 mins weekly live sessions that you can join live or catch the replay.
Full support between sessions in the Facebook group where you can connect with others, ask questions and get support daily from me.

Bonus: Attraction Programme that sells for $117 to work through in your own time full details are on the link https://theangelmystic.co.uk/attraction/
What if I can't join live?
No problem, many in my group programmes don't the important thing is you do the session in your own time and do the work that comes from it.  You then use the Facebook Group for support and to ask question.  It works perfectly well that way too.
Cost and Commitment:
I am super excited to offering this new programme focusing on your love life.  I can't wait to see you happy in your new relationship.  Even better if you want to invite me to your wedding, as have been to client's weddings in the past and it gives me such a thrill to know I have had a part in your coming together.
So this is only for you if you are serious that you want my help in MANifesting your new man.  That means you are ready to do the work as when you do it will happen fast.  That might mean you have to look at areas of your life that feel painful, but the way my energy healing works it is not about dragging up the past and reliving it but about releasing it and letting it go.  It makes space for that magical relationship you have been waiting for.
So if you are ready to do this, I am serious in helping you and we are starting soon – 17 May!
This 4 week Love Clinic Group Programme is £160
Here is a link to join:
Remember he is waiting for you too!  We just have a bit of energy alignment to do to make it all happen.
What will we cover:
Healing Your Past
Energy work on releasing all the past relationships and beliefs you have about relationships.
Understanding the lessons from past relationships as that means you don't have to keep repeating patterns.
Cord cutting.
Working on You
Are you who you need to be to attract the man you want.
Increasing your self-worth and self-love.
Working with vulnerability and being open to receive.
Ordering Your Man
Making sure you are ordering what you want, is that a soul mate or twin flame?
Getting clear on the qualities and appearance you want in your man.
Looking at all the nitty gritty of what you want in your new relationship.
Taking Action
When we are crystal clear and your order is placed it is time to take action to draw in that man following your intuition.
Space clearing and preparation of your love nest.
Want more support?
You can upgrade and do the 1:1 Version. You get all of the above plus:
2 hrs. initial appointment so we can do deep on the healing and manifesting that man.
3 x 45 mins weekly follow up appointments to continue the work.
Email support in between sessions Mon – Fri
Bonus: Attraction Programme that sells for $117 to work through in your own time full details are on the link https://theangelmystic.co.uk/attraction/
All appointments are done via Zoom or Skype and you get a recording and notes after each one.
This 4 week programme is £1100 and includes all sessions, healings, bonuses and email support.  Including the group programme.
To book your place on the 1:1 Upgraded version click here:
Which is best?
We will go through the same content in both.  Obviously the 1:1 gives you a lot more support as it is just me and you in the session, plus you get the bonus of the group too.
However, there is something quiet special about group work and I love working this way too.  Hearing others people's stories often helps you get clearer on yours.
Having extra support in the group and making new friends helps this journey become more fun too.
It really depends if you comfortable sharing and interacting in a group or would you feel better just 1:1?  It has to be your choice.
If you would like to take advantage of the Love Clinic Group Programme offer before all the slots go. Here is a link to join at £160.
Once I have received that I will contact you to invite you into the group so we can get started.
Can't wait to get MANifesting with you.
A x
P.S. The first 6 places booked received 2 week free access to Abundance Club, my monthly manifesting membership club.